HiddenApp's Device IP Management feature is designed to provide your organization with an extra layer of data security.
The Device IP Management feature allows you to set approved networks for your devices, meaning that administrators can more readily monitor network usage, and prevent devices from straying on to networks outside approved infrastructure.
To enable Device IP Management please follow these steps:
1. Navigate to IP Management

2. Click Enable

3. Click Add

4. Enter the network address using the CIDR notation. E.g. 192.168.0.0/16 which equals to the 255.255.0.0 netmask.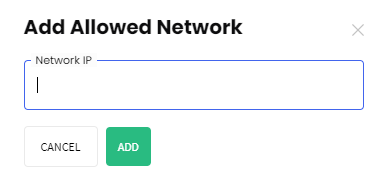 5. If you don't know your CIDR notation you can find out by entering your IP address in to this tool https://cidr.xyz
Tip: You can add as many approved networks as you wish
Device IP Management is available on Ultimate and Custom plans only. Please upgrade to enable this feature or reach out to [email protected] to trial this feature.